PHENIX CITY, Ala. – The unveiling of Viking Yachts' 80' Convertible (80C) at the company's annual dealer meeting in Atlantic City, N.J. marked the successful end of a well-planned journey for the new model. As the 80C navigated the water for sea trials in front of nearly 100 Viking dealers, history had once again been achieved by the luxury performance sportfishing and cruising yacht giant.
Another team that was celebrating the first float of Viking's 80C was Vectorply Corporation's engineering and sales team. Vectorply Director of Composites Engineering Trevor Gundberg, along with Vectorply's team of engineers and Northern Region Sales Manager Seth Holman, also invested a significant amount of time into the successful design and fabrication of the 80C.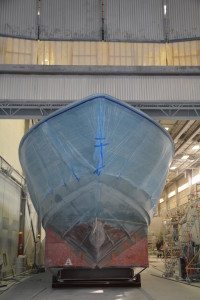 Vectorply's Road to Optimization (R2O) is a process of evaluating a company's laminate and production process from start to finish, from the time the material is delivered until the customer's product is complete. The R2O for the Viking 80C unofficially began in 2012, with successful composite fabrication ending the journey three years later.
In April 2012, Vectorply and Viking began the process of discussing E-glass/carbon quadraxial hybrid options to replace heavier E-glass quads in various models. With weight savings at the forefront of discussions, Vectorply, along with 3A Composites and Mahogany Company, traveled to New Gretna, N.J. in May 2012 for a face-to-face meeting with members of Viking's team.
With the on-site meeting and technical audit complete, initial studies were compiled in Vectorply's proprietary laminate analysis software program, VectorLam Cirrus. The results of the study were two potential E-glass/carbon hybrid candidates to replace the bulky 48oz/yd² and 64oz/yd² E-glass quads in current Viking laminates. The 35oz/yd² and 44oz/yd² hybrid replacements were chosen due to their ability to provide the same or better mechanical properties, but at a reduced weight.
During the reinforcement design step on the Road to Optimization the two E-glass/carbon hybrid quads were revised from the VectorLam versions to production-ready materials. A cost analysis was provided to Viking, allowing them to determine if the new materials were cost-effective.
A test matrix was originally drawn up in June 2012 following the collaborative meeting at Viking Yachts.  Between June and August, Vectorply produced sample quantities of EC-QXM 3508 and EC-QXM 4408.  Laminates were also produced in Vectorply's lab during this time (including "control" laminates made from E-QXM 6410 and 4808) using a standard infusion grade vinyl ester resin system. These samples were later tested in flexure by 3A Composites in March 2013.
In June 2013 it was decided to run a more detailed test program, very similar to the original test matrix, and have a third party test lab (AMC) perform the testing. For this detailed testing, the laminates were produced using the same resin system Viking currently uses (Ashland's AME 6001 INF-35 with Syrgis/United Initiators Norox MCP-75 initiator). Testing was completed in November 2013, which included testing for tensile, compressive, and flexural properties in the 0°, 90°, and 45° (bias) orientations.  VectorLam predictions were once again modified to more closely match the test data.
The hybrid fabrics became a topic of conversation again in August 2014, just before a technical meeting between Vectorply, Viking, 3A, and Mahogany in September 2014, which was the kick-off meeting for the new 80' Convertible model. According to Viking Yachts' Vice President of Design and Engineering, Lonni Rutt, the 80C was the perfect model to utilize the E-glass/carbon hybrid quads based on the company's goals for the new boat.
"We were looking to bring a new model between the 76' and 82' class that was more efficient with better performance and provided more room than the smaller boat," Rutt said. "Weight reduction was huge with respect to maintaining the performance. At the end of the day, performance is all about weight when it comes to boats of this size. We are limited in horsepower when you get to that size boat, so a lighter boat is going to go faster."
Vectorply worked with 3A Composites on designing the 80C hull bottom and side laminates utilizing the hybrid fabrics, which were discussed during the meeting. After the meeting, samples of the EC-QXM 3508 and 4408 were sent to Mahogany for kit cutting and supplied to Viking for in-house process testing.
The final steps of the materials testing and analysis portion of the R2O took place in September and December 2014 when the 80C deck laminates and hull stringer laminates were derived. Each of the laminates was designed using ABS High Speed Craft scantling rules as guidelines.
With the materials chosen and testing complete, the Road to Optimization moved on to the fifth step, building reinforcements to order.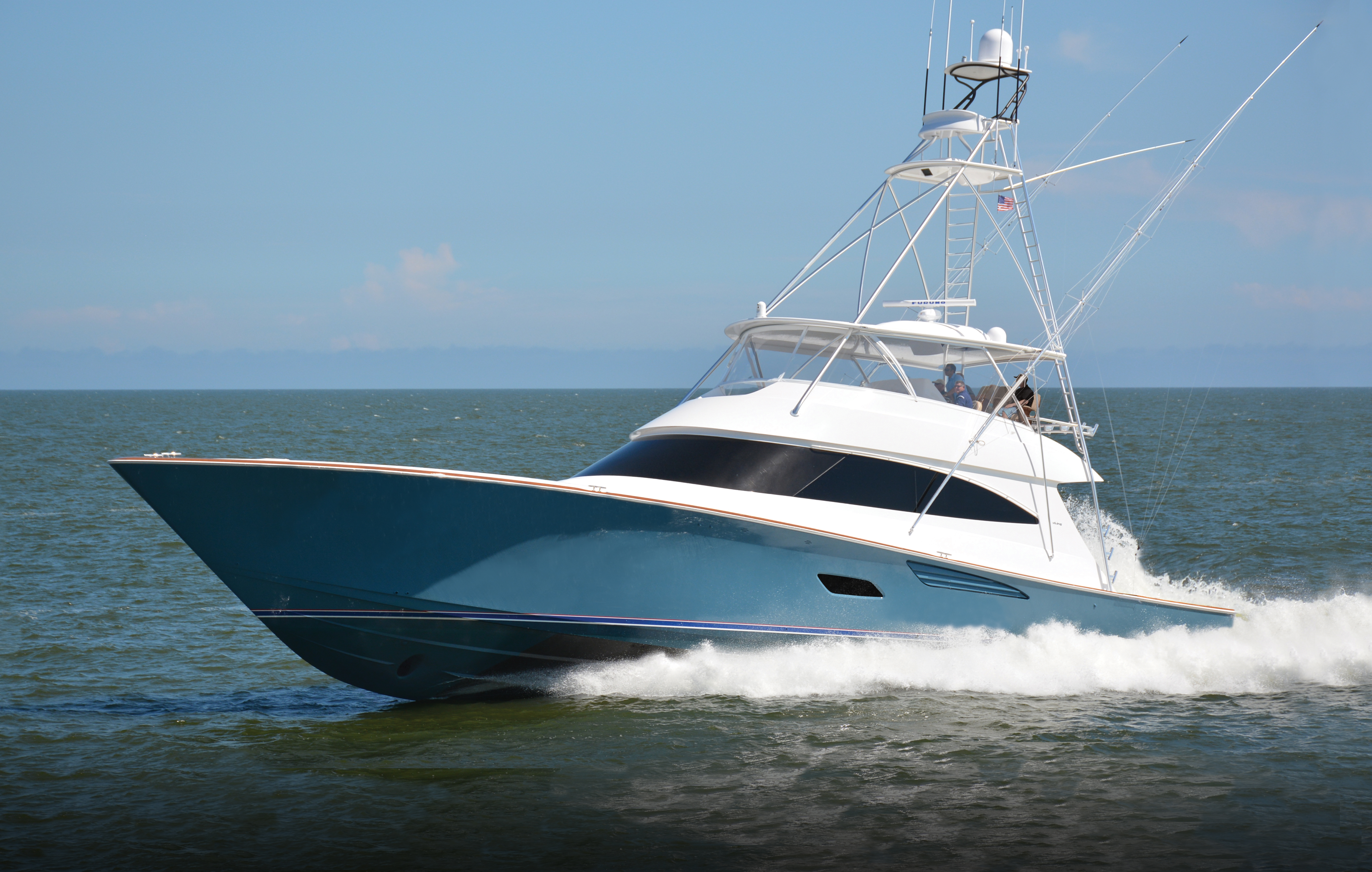 The first production run of the hybrid quads took place in
December 2014, with three subsequent runs in 2015 in April, June, and October. Thanks to the thorough planning by Vectorply and Viking, each material in the laminate was designed to fit into Vectorply's current production schedule.
"We've done a good job from a collaboration standpoint where there is nothing that Viking orders that doesn't fit into our production
schedule," Holman said. "The fabrics fall under our normal lead times. They were designed to utilize some aspects of standard set-ups, which in-turn make the new fabrics readily available from a production and delivery standpoint. As a group we have done a great job selecting materials that are efficient for everybody."
Once the materials were received Viking completed the Road to Optimization with the successful production of the first 80C in early 2015, and the results were phenomenal. Not only did the new 80C achieve better top-end performance results than the 82', it also surpassed those of the smaller 76'.
"The speed of the 80' is 41+ knots, which is about 3.5 knots faster than the 82'. It is also faster than the smaller 76'," Rutt explained.
The collaboration between Vectorply, Viking, 3A, and Mahogany has been a major reason for Viking's ability to lead the field of semicustom boat builders in innovation, according to Rutt.
"A tremendous benefit for our company has been seeing what everybody brings to the table in terms of their specific piece of knowledge," he said. "The fact is that you have people who have the opportunity to see other things and bring new, different ideas. Vectorply is dealing in multiple industries in addition to marine, and our knowledge is going to be driven by what we have in house and what we learn from out of house."
Making boats lighter and faster than smaller models is a difficult task, but with Vectorply's Road to Optimization Viking Yachts was able to accomplish that lofty objective with the 80' Convertible. From start to finish, the Road to Optimization can help customers achieve goals that seem unlikely at first glance. To find out more about the Road to Optimization, call Vectorply today at 334-291-7704.
http://vectorply.com/wp-content/uploads/2015/11/Viking-80-Convertible-e1446478287755.jpg
2002
3000
Scott
http://vectorply.com/wp-content/uploads/2016/06/vectorply-top-space.png
Scott
2015-11-02 15:32:22
2015-11-02 15:32:22
Viking Yachts 80' Convertible brought to life with help from Vectorply's Road to Optimization