Phenix City, AL – Vectorply Corporation, a Phenix City, Ala.-based manufacturer of high performance composite non-crimp fabrics (NCF), officially opened the doors of their new Advanced Composite Reinforcement Center with a Grand Opening Ceremony in front of friends, customers, and suppliers on Wednesday, June 14, 2017.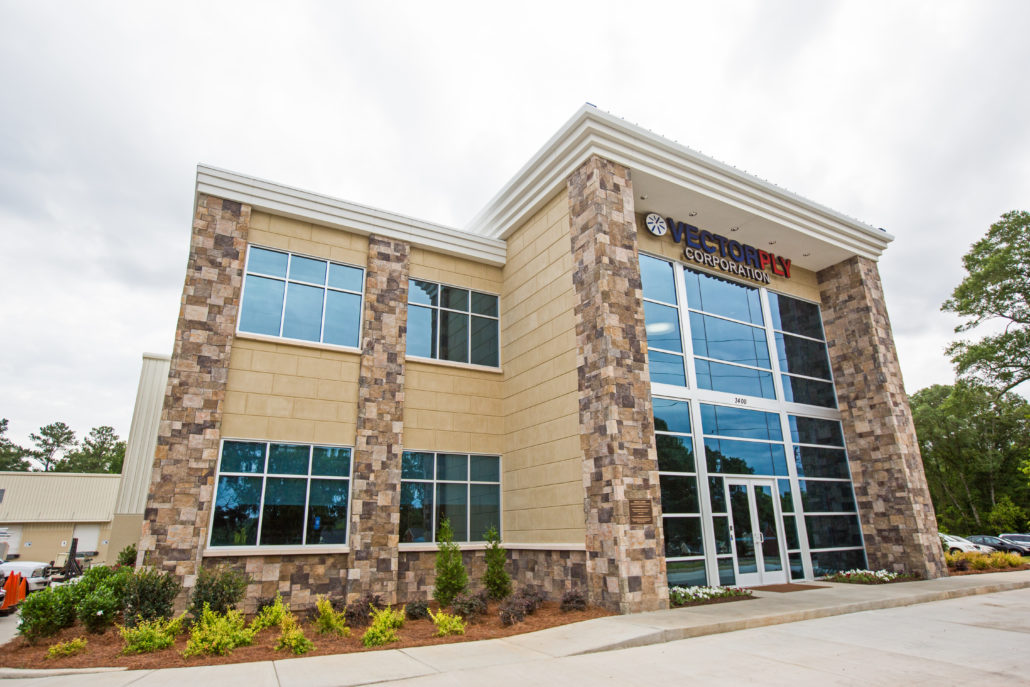 The new 53,000 sq. ft. (5,000 sq.m.) facility features 38,000 sq. ft. (3,500 sq. m.) of manufacturing space dedicated to producing the company's VectorUltra™ line of advanced multiaxial reinforcements. In addition, the new facility boasts 6,000 sq. ft. (557 sq. m.) for Vectorply's Technical Services and Engineering Team, including a fully-equipped composite materials lab. The expansion also includes a two story, 9,000 sq. ft. (836 Sq. m.) office for the sales and service staff.
Currently, Vectorply produces 19 standard carbon products ranging from a 3-oz. (100 gsm.) biaxial fabric to a 94-oz. (3,193 gsm.) mirror-image quadraxial tooling fabric. According to Co-President Trey Sawtelle, the new manufacturing facility will be key to future product innovation for customers.
"This investment is important on many levels as it will give us the space and capacity to expand our carbon NCF product offerings while maintaining our commitment to our standard line of VectorUltra™ products," he said. "This facility will be at the forefront of innovation of advanced carbon reinforcements, which will allow our customers to produce cutting-edge composite parts."
Vectorply's new composite materials lab was built with a goal of fabricating and mechanically testing composite laminates for both customer project support and internal/external R&D efforts. The new lab provides the capability to fabricate laminates via hand lamination, vacuum infusion, wet bagging, LRTM, or oven cured prepreg, with all relevant processing parameters tracked and recorded. The finished panels are then precisely machined for testing to determine tensile, compressive, flexural, in-plane shear, or interlaminar shear properties on their new United SFM "SMART 1" Floor Model 100kN test frame.
With the addition of the Advanced Composite Reinforcement Center, Vectorply is further establishing themselves as a premier supplier of high-performance carbon fabrics for demanding applications where weight savings and performance are key. Targeted market segments include aerospace, defense, and transportation along with infrastructure, marine, and sports and recreation.
"Our new facility and engineering capabilities will provide the environment for designing some of the most unique and innovative multiaxial carbon products in the world," Sawtelle said. "We look forward to working with new industries, markets, and customers as we develop these high-performance reinforcements."
Along with the additional manufacturing capabilities, Vectorply is also committed to growing an already highly-skilled team of employees. Recent additions of Customer Service Team Leader Mandy Pierce, Process Improvement Manager Paul Shiver, and Composite Materials Test Engineer Leigh Nolen have brought a wealth of specified experience to the team. Vectorply will also welcome Quality Assurance Manager Jay Woodrow to the team in July to continue the mission of only providing the highest quality fabrics with unparalleled consistency to customers.
Vectorply's new addition proudly reflects the name of founder and CEO Don Massey, who started the company in 1992 as Tech Textiles, USA. In May, Massey was presented with a bronze plaque that was placed on the front of the building naming the facility the 'Donald L. Massey Advanced Composite Reinforcement Center', which included one of his core business principles for success, "A company's reputation is its only sustainable competitive advantage. We will constantly strive to preserve our reputation of excellence".
For more information on Vectorply, please visit our website, vectorply.com, or call our team at 334-291-7704 or 1-800-577-4521.
http://vectorply.com/wp-content/uploads/2017/06/Front.jpg
3840
5760
Scott
http://vectorply.com/wp-content/uploads/2016/06/vectorply-top-space.png
Scott
2017-06-15 15:05:15
2017-06-15 15:06:34
Vectorply Corporation commissions Advanced Composite Reinforcement Center with Grand Opening Ceremony