PHENIX CITY, Ala. – In September, Vectorply Corporation will be exhibiting at the Composites and Advanced Materials Expo (CAMX) and the International Boatbuilders' Exhibition and Conference (IBEX).
The CAMX 2017 show will take place September 11-14, 2017 at the Orange County Convention Center in Orlando, FL. The goal of CAMX is to "connect and advance all aspects of the world's composites and advanced materials communities," according to the show's official website. Vectorply will be located in booth F22, and visitors are encouraged to stop and visit with our sales and engineering teams.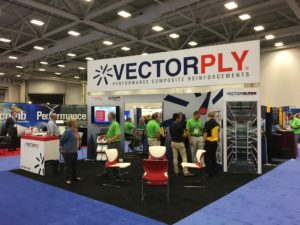 The IBEX Show will take place the following week, September 19-21, 2017 at the Tampa Convention Center in Tampa, FL. This will be the second consecutive year that IBEX takes place in Tampa, and the 2018 show will also be in Tampa. This year, Vectorply Corporation will be located in booth 1150.
As the leader in the marine market for composite reinforcements, Vectorply has built a legacy of making boats stronger, lighter, and faster. At IBEX, several marine-focused materials such as Aramid/Carbon/E-glass hybrids and reinforcements with added print-block capabilities will be on display at Vectorply's booth. Vectorply's proprietary laminate analysis software, VectorLam Cirrus 2.0, will also be demonstrated for users who are interested in building their own laminates to achieve specific goals of stiffness, strength, weight and cost.
At both shows, visitors will be able to learn more about Vectorply's recent addition of the 53,000 sq. ft. (5,000 sq.m.) Donald L. Massey Advanced Composite Reinforcement Center (ACRC). The ACRC features 38,000 sq. ft. (3,500 sq. m.) of manufacturing space dedicated to producing the company's VectorUltra™ line of carbon multiaxial reinforcements as well as a 6,000 sq. ft. (557 sq. m.) fully-equipped composite materials lab for Vectorply's Technical Services and Engineering Team.
http://vectorply.com/wp-content/uploads/2017/08/Booth-CAMX-2web.jpg
1150
2047
Scott
http://vectorply.com/wp-content/uploads/2016/06/vectorply-top-space.png
Scott
2017-08-11 18:11:10
2017-08-11 18:11:10
Vectorply Corporation exhibiting at CAMX and IBEX next month