VectorLam Cirrus 2.0 – The Next Evolution in Laminate Design and Analysis Software
VectorLam Cirrus 2.0 is the latest edition of Vectorply's proprietary laminate analysis software. VectorLam Cirrus 2.0 provides a cloud-based, multi-platform compatible approach to classical laminate theory and provides a suite of services across diversified market segments. This upgrade from the Excel-based version of VectorLam allows users to build and access laminates on nearly any internet connected device.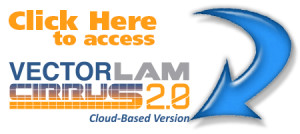 VectorLam Cirrus 2.0 helps achieve goals of stiffness, strength, weight and cost by allowing users to design the perfect laminate for their application. Whether it is comparing materials, resin, or even manufacturing processes, VectorLam Cirrus 2.0 offers the best solution and reports it in clear, concise language. It has never been easier for users to build, review, and adjust their laminates to meet their specific requirements.
Most importantly, VectorLam Cirrus 2.0 is free to all users. Just sign in by clicking the logo to the right and start creating!
Save Time, Save Money
Showing how different material selections can help speed production and reduce labor is one of VectorLam Cirrus 2.0's key functions.  While navigating through the maze of materials to meet your stiffness and strength requirements, Cirrus 2.0 helps to reveal cost effective solutions to optimize the number of layers needed to meet your specific objectives. VectorLam Cirrus 2.0 provides the link between finished laminate cost and the cost of labor.
Highlights:
Easy drag-and-drop maneuvering of layers to design the perfect custom laminate
Web-based capacity allows an almost unlimited number of laminates per project
Compare laminates in terms of stiffness, strength, weight, and cost using highly customized tables and graphs which can now be easily exported to a variety of platforms (PDF, Excel, TIFF, Word, etc.)
All laminate data is easily accessible from "the cloud" using PC's, Mac's, or any other web device
Share laminate projects with other VectorLam Cirrus 2.0 users and Vectorply administrators